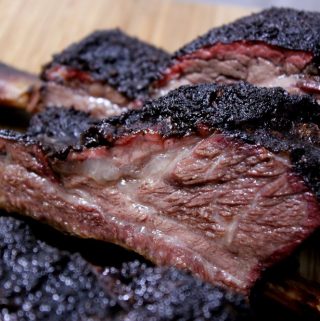 These smoked beef short ribs are huge and taste so good but you will have to spend some time behind the smoker.  Up to a 10-hour cook but well worth the wait.
Ingredients
1 to 2 slabs of beef short ribs
Salt
Root beer
 Directions
Cut fat and silver skin from the top of the beef short ribs.
Sprinkle about 1 to 1.5 tsp of coarse salt onto the top of the beef ribs and place them in the fridge for 6 hours.
Sprinkle your favorite rub onto the ribs and let them sit until the rub turns somewhat wet.
Preheat smoker to 240°F using indirect heat. If you have a water pan and want to use it, please do.
Place the beef short ribs in a shallow pan and place all into your waiting smoker.
Make the basting sauce using 2 cups of root beer, 1 cup of low sodium soy sauce and 1 cup of Worcestershire sauce.
Pour the basting sauce over the meat and let it run down into the pan.
Continue basting the meat with the sauce from the pan using a turkey baster every 30-45 minutes while it cooks in the smoker.
Cook until fork tender, usually at 190-195°F but can be lower or higher than that.
Let the meat rest under foil for about 10 minutes before slicing and serving.
What are your thoughts about this recipe?  Do you have any other ideas?