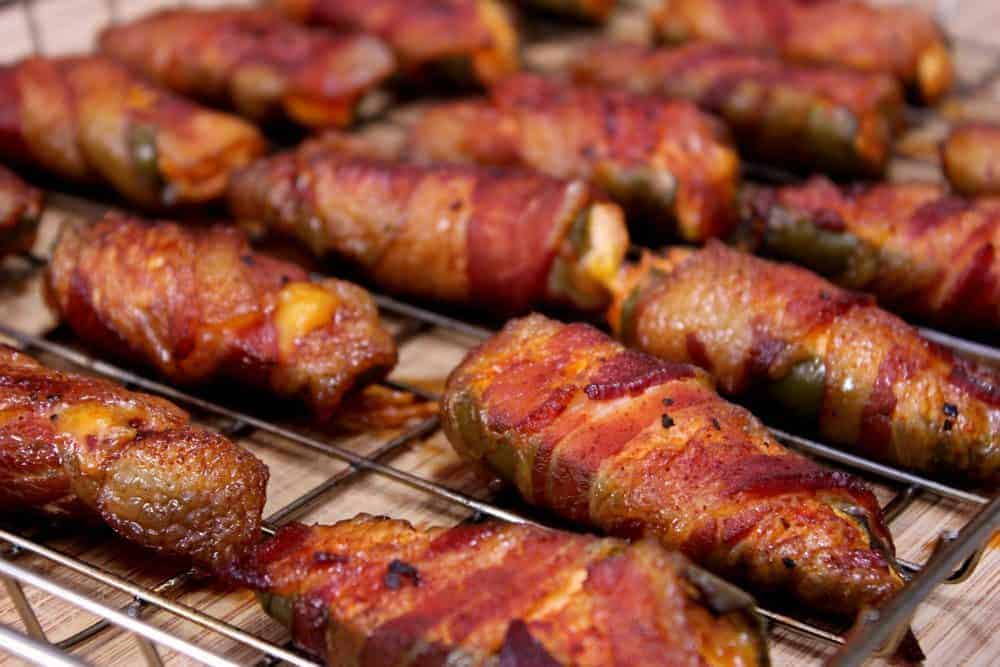 Smoked jalapenos stuffed with a cream cheese and sharp cheddar then wrapped in bacon. These are easy and fun to make and goes great with other smoked meats or served by themselves.
Prep
Ingredients
These are Habaneros, I dare you to use them.
30 Jalapenos
16 oz Cream Cheese
2 cups extra sharp cheddar, grated
½ cup of your favorite rub
30 slices of bacon, thin cut is best, about 2 pounds
Equipment
Directions
Wash the jalapenos
Cut off the stems and remove the seeds and veins
Cut the peppers in half lengthwise so they become boats.
Combine 16 oz of cream cheese, 2 cups of shredded extra sharp cheddar and ½ cup of your favorite rub into a large bowl. Mix well.
Stuff the mixture into the boats just slightly heaped up over the edges.
Cut the bacon slices in half and wrap a half slice of bacon around each stuffed pepper.
Set up your smoker to 230°F and enough wood for about 2 hours of smoke.
Smoke the jalapenos for 2-3 hours or until the peppers have a good bite thru.
Enjoy the awesomeness.
What are your thoughts on this Jalapeno recipe?  Do you have another way to smoke these little jewels?  What are your comments?  Please leave us a comment below.